LISTEN TO KYMONE FREEMAN HERE:
Audio clip: Adobe Flash Player (version 9 or above) is required to play this audio clip. Download the latest version here. You also need to have JavaScript enabled in your browser.
Artist and activist Kymone Freeman may have committed the crime of PWB: Parenting While Black. Recently, Freeman parked his car and walked some 25 feet to an ATM. But before the transaction was complete, a police officer was standing by his car. With his child peacefully napping in the car with the sunroof open, Freeman was handcuffed, arrested and charged with second-degree cruelty.
Freeman said, "I'd like to… point out that Obama takes a swim in the Gulf of Mexico after the largest oil spill in history, with millions of gallons of chemical dispersants in the water with unknown effects on the environment, and takes his daughter with him and he's applauded. But, yet, I go to the [ATM] machine, with my sleeping kid in the backseat 25 feet away from me with a glass door between us and I'm charged with second-degree cruelty."
While the MPD showed no love to Freeman, the activist and artist is busy spreading the love: Saturday, September 19 from 12:00-7:00 PM at 4th & Pennsylvania Ave, NW, Freeman is holding the 13th Annual National Black L.U.V. Festival.
Freeman described the Black L.U.V. Festival, "Downtown, Fourth and Pennsylvania Avenue, four blocks from the capitol, is the largest annual AIDS mobilization and the premier progressive black arts festival." Due to economic hardship, this may be the final year of the festival if Freeman is not able to secure further financial support.
(See below for an interview with Kymone Freeman and others with Save Our Safety Net on May 26, 2010)
The Math is Whack, We Want Our Safety Net Back
LISTEN TO KYMONE FREEMAN HERE:
Audio clip: Adobe Flash Player (version 9 or above) is required to play this audio clip. Download the latest version here. You also need to have JavaScript enabled in your browser.
"The Math is Whack, We Want Our Safety Net Back," chanted more than 50 supporters of the Save Our Safety Net campaign as they stormed the DC Council's closed-door breakfast briefing this morning. In order to balance the budget, Mayor Adrian Fenty proposed a number of harsh cuts to essential services. The Safety Net supporters called on the Council to prevent these cuts by implementing a "millionaires' tax" which would raise revenue by increasing taxes on the District's highest earners.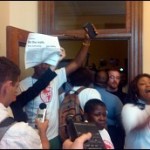 After 10 minutes of bringing their message directly to the councilmembers,
the activists left the closed door breakfast, with no arrests. Ward 1 Councilmember Jim Graham heard their call and introduced an amendment to the Budget Support Act which would have raised taxes on District residents with a taxable income of more than $350,000, but the amendment failed in an 8-5 vote. At-large Councilmember Michael Brown was one of those who voted in favor of the "millionaires' tax."