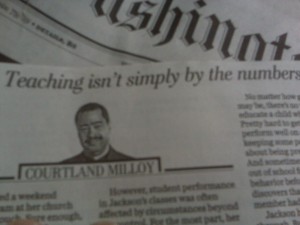 LISTEN TO COURTLAND MILLOY HERE:
Audio clip: Adobe Flash Player (version 9 or above) is required to play this audio clip. Download the latest version here. You also need to have JavaScript enabled in your browser.
Since 1983, Courtland Milloy's columns for the Washington Post have dealt "primarily with issues that affect the lives of African Americans." According to Milloy, Mayor Adrian Fenty and Schools Chancellor Michelle Rhee's school reforms resulted in "more money being allocated to well-to-do areas than to the areas that need it most." Milloy said that although much is made of Rhee's ability to quickly respond to emails, "the schools' survey of parents found that one of the things people in the poorest areas wanted was some way to access a computer."

In the District of Columbia, where 75 percent of the public school students are African-American, any attempt at school reform will disproportionately impact black students. According to Saturday's Post editorial ("Report Card: Is there racism in Washington's school reform?"), African American students have benefitted from Fenty and Rhee's school reforms. The Post declared that black students "have not been left behind," rather school reforms are "meeting the needs of poor children" who are making "remarkable" gains.
In an interview Friday, Milloy questioned whether some of these gains are the result of gentrification: "The city lost 12,000 affordable homes and apartments last year. Somehow 4000 students have just disappeared out of the school system. And in those schools, where most of these students came from, if they were poor, yeah, test scores did do a little blip up, as you would expect when you lose poor people out of the system. That doesn't mean that you're educating them. It means that they're just not there to bring your test scores down."
Unlike Fenty, Rhee and the Post, Milloy has insisted on linking poverty and educational achievement. In his September 29th column, Milloy said, "No matter how great a teacher may be, there's no way you can educate a child who is not in class. Pretty hard to get a girl to perform well on a test if she's keeping some painful secret about being pregnant or abused. And sometimes boys are kicked out of school for disruptive behavior before anybody discovers that a friend or family member had been shot to death."
On page one of that same edition of the Post was an article which stated: "Three out of 10 children in the nation's capital were living in poverty last year, with the number of poor African American children rising at a breathtaking rate… Among black children in the city, childhood poverty shot up to 43 percent, from 36 percent in 2008 and 31 percent in 2007."
While the Post regularly states that Fenty lost his reelection bid despite the city making significant improvements, for much of the city the facts state otherwise. And the election results bore that out.
Thank god for Courtland Milloy, who's taken on the role of the people's representative at the Post.