Introduction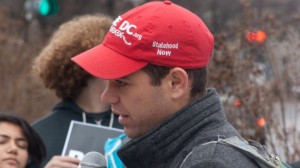 For the past two years, I have worked as a local journalist in the District of Columbia to bring more time and attention to social activists who routinely are ignored and silenced by the corporate media. Most of my stories, reports and long-form interviews have aired on WPFW 89.3 FM, Pacifica Radio (and are archived at TheFightBack.org). But now, my work no longer appears on this important station. I want to offer a brief summary of this situation in the hopes that it can be resolved.
Beginning in mid-April, my reporting became a nightly fixture on Spectrum Today, WPFW's evening news program hosted by WPFW News Director Askia Muhammad. Over a six month period, Mr. Muhammad aired more than 100 of my reports and introduced me as "Journalist Peter Tucker." These interviews were cited in the Washington Post, City Paper and FAIR's Extra!, among other outlets.
My reports exposed D.C. Councilmembers' second-six figure salaries (Jack Evans, David Catania), as well as their possible conflicts of interest (Jack Evans, Harry Thomas). I've covered former D.C. Schools Chancellor Michelle Rhee's "school reform." But rather than only interviewing her (which I did until she stormed away), I spoke with parents, students, teachers, activists and journalists, who have a very different take. I also examined the Washington Post's possible conflict of interest when it comes to reporting on education issues due to its ownership of the testing company Kaplan.
Additionally, I've reported on: D.C.'s twin epidemics of HIV/AIDS and poverty; the closing of homeless shelters and the children within homeless shelters; the Black Farmers' struggle for justice, as well as a farmers' market in the Ward 8 food desert; anti-war activists and anti-slavery activists; Net Neutrality, as well as the dangers of online voting; the fight for youth space in Silver Spring and the fight against a youth detention facility in Baltimore; public housing issues, as well as private housing issues, not to mention WPFW's housing issues; former Mayor Adrian Fenty's election maneuverings and then-mayoral challenger Vincent Gray's candidacy.
It is not a coincidence that my reports aired on Pacifica Radio. Six years ago, I picked up Amy Goodman's "The Exception to the Rulers" and read about Lew Hill, a World War II resister who was placed in a detention facility because of his beliefs. Upon release, Lew Hill set out to create a media that didn't benefit from war. This marked not only the birth of Pacifica Radio, but also the beginning of listener-sponsored radio in this country. This proud history drew me to WPFW and drove me to continue reporting for the station, without pay.
In late September, Askia Muhammad fell ill and was out for an extended period. In his absence, I hosted Spectrum Today during the station's Fall Fundraising Drive and the response from listeners was gratifying. Many listeners pledged in order to receive copies of interviews I had done for Spectrum Today.
In late October, Mr. Muhammad returned to the station not only with renewed health, but apparently with an agenda that included getting rid of me. Upon returning, Mr. Muhammad began cutting my pieces, saying they were "always way too long," "too old," "often polemical," and "didn't fit" with his program. Then, on Dec. 1, without explanation, he suspended me.
In subsequent emails, Mr. Muhammad said, "I began to realize that I no longer trusted your journalistic judgment, worse still, I realized I no longer respected your ethics, or your journalistic integrity." He accused me of being "insubordinate to senior staff members" and "overbearing toward other volunteers," among "OTHER ETHICAL AND JOURNALISTIC OFFENSES OF WHICH YOU ARE GUILTY."
When I asked for a fair and open hearing, Mr. Muhammad replied in a Dec. 6 email, "I have no interest in engaging in a spitting contest with you over my reasons for suspending you, certainly not out in the open…  These are not "allegations" against you, this is a confidential personnel matter. This is not some cause celebre ala Juan Williams being purged from the ranks of NPR. These are delicate matters, that regardless of their outcome, could ultimately reflect on any potential news outlet's future consideration of you as a potential employee. What is your goal? To have some adjudicating body force you back into the WPFW News Department? Please consider very carefully how you choose to proceed in this matter."
At the Dec. 15 WPFW Local Station Board meeting, more than a dozen longtime activists and community leaders raised concerns about my suspension. In his Dec. 20 email, Mr. Muhammad referred to them as a "Lynch Mob… with torches and pitchforks."
This has gone too far. I respectfully request that my December 1st, 2010 suspension from the WPFW News Department by WPFW News Director Askia Muhammad be recognized as illegitimate and undone in writing as soon as possible.