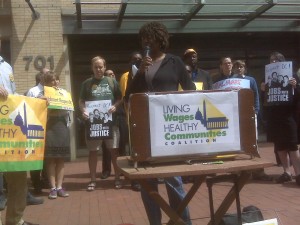 LISTEN TO VOICES FROM THE LIVING WAGES, HEALTHY COMMUNITIES RALLY:
Audio clip: Adobe Flash Player (version 9 or above) is required to play this audio clip. Download the latest version here. You also need to have JavaScript enabled in your browser.
"The wages are pathetic. You cannot raise a family on what Walmart pays," said Ernestine Bassett, a D.C. resident who has worked at Walmart's Laurel, Md. store for the past four years. Bassett started out at $9.50 an hour and now earns $10.70 an hour. "That's how far I've come," she said with irony.
Standing outside Walmart's D.C. offices last week, Bassett told protesters, "The majority of workers at Walmart, they are holding down a second job to make ends meet. With the price of gas, food, babysitting costs, housing, you need two or three jobs if you are working at Walmart."
"There was a time when I first got there, they would try to deny you a bathroom break. You couldn't ask to go to the ladies' room too many times. The fact that you had to raise your hand and ask to go to the ladies' room is degrading. And if you stayed too long they would page you, make you feel bad. 'Where you been? What took so long?' You shouldn't have to discuss your bathroom habits with your management."
The Living Wages, Healthy Communities Coalition, which organized last Thursday's demonstration, describes itself as "an alliance of grassroots-based organizations, pastors, workers, environmentalists, parents, students and community members concerned about the quality of life in DC communities and committed to securing decent, living wage jobs."
The group noted that the world's largest retailer, which is attempting to bring four stores to the District of Columbia, "has a track record of poverty jobs and notably failing to fulfill voluntary, verbal commitments it has made to other communities. The Coalition believes Walmart should only be permitted to operate in DC if it signs an enforceable community benefits agreement."
The Coalition attempted to deliver their proposal, which includes paying at least $12.50 an hour to all employees working at Walmart's D.C. stores. Walmart, however, was unwilling to meet with the group.
Dr. Jarvis Johnson, Coalition spokesperson, said, "It's not a surprise. We know that Walmart has people up there. We know that this is not an off-day for them. But they have decided not to come out, nor to send someone to receive our letter. It's amazing someone says and promises they want to be a good neighbor but never wants to meet their neighbor."
Related Links:
http://www.respectdc.org/ <http://www.respectdc.org/>
Related Stories:
Busboys and Poets Owner Andy Shallal Says Four Walmarts In D.C. Would Be Devastating <http://thefightback.org/2011/04/busboys-and-poets-owner-andy-shallal-says-four-walmarts-in-d-c-would-be-devastating/>
Yes! Says No to Walmart <http://thefightback.org/2011/02/yes-says-no-to-walmart/>
"Paying a Hell of a Price" for Walmart <http://thefightback.org/2011/02/paying-a-hell-of-a-price-for-walmart/>
Bobb and Walmart Eye DC <http://thefightback.org/2011/01/bobb-and-walmart-eye-dc/>