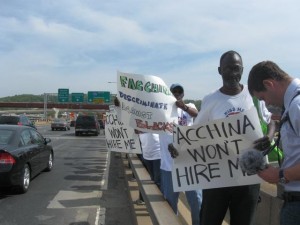 Audio clip: Adobe Flash Player (version 9 or above) is required to play this audio clip. Download the latest version here. You also need to have JavaScript enabled in your browser.
"They come here in our ward so [they should] hire us," said Gardenia Walker, a native Washingtonian and single mother who lives east of the Anacostia River where unemployment is very high. Standing on the guardrail of the 11th Street Bridge, as traffic poured out of downtown D.C., Walker said, "I want a job. I put in an application and I kept calling [but] they never called me back. They won't hire me. I don't know why."
Walker was among the dozens of District residents at the April 20 protest organized by DC Jobs or Else. The $300 million reconstruction of the 11th Street Bridge – which connects downtown D.C. to east of the Anacostia river – has resulted in too few jobs for District residents, according to demonstrators.
The Washington Post noted (after DC Jobs or Else's first 11th Street Bridge protest on March 22):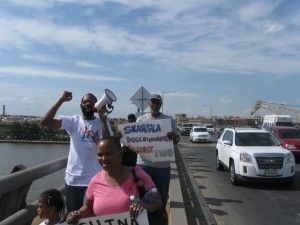 "The project – the District's largest-ever transportation construction endeavor… is scheduled to be finished in 2013. Despite its size, duration and location beside some of Washington's neediest communities, the protesters contended that few people from those neighborhoods have landed jobs on the project."
"I was here when they had outdoor bathrooms in Southwest, my friend. I was here when they built this city," said 63-year-old native Washingtonian William Alston El. Recent census numbers show that the District of Columbia – historically referred to as Chocolate City – is on the verge of losing its African American majority, if it hasn't done so already.
Alston El said, "We're being pushed out economically. We don't have the money to buy what other people have… They say it's not racism, but the name of the game is they have the money. You can't live [in] a place if you can't pay the rent."
Watch William Alston El in this recent video produced by the grassroots community group One DC.


Related Links:
http://www.dcjobsorelse.org/
Related Stories: