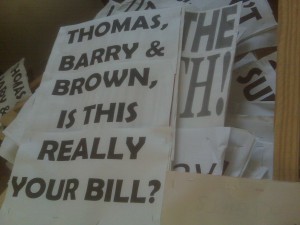 LISTEN TO THE VOICE OF DC CAB DRIVERS, JUNE 12, 2011:
Audio clip: Adobe Flash Player (version 9 or above) is required to play this audio clip. Download the latest version here. You also need to have JavaScript enabled in your browser.
Due to technical difficulties the audio doesn't include the beginning of the show.
Friday, a private meeting on the medallion bill was held at Guildfield Baptist Church in northeast D.C. Mohammad Momen, owner of Silver Cab, attended the gathering but declined to comment on why he was there. Also present was a driver from Noble Cab who refused to give his name, but claimed to be high up in the company. Before the meeting began I was told to leave by an individual who repeatedly refused to give his name, then claimed it was "Peter Johnson."
Also in attendance was John Ray, the former councilmember turned lobbyist. Mr. Ray has stated that he "played a big role in writing the [medallion] bill." As he got out of his car and headed into the church I asked Mr. Ray if he could comment on his legislation.
[John Ray]
An individual named David became upset with me for questioning Mr. Ray.

[David]
Worku Biru, a driver with Grand Cab Company, attended the meeting and discussed what transpired, including the attempt to kick out drivers with less than twenty years experience.

[Worku Biru]

Also in attendance was Negede Abebe, board member of The Small Business Association of DC Taxicab Drivers and chair of Grand Cab Company.

[Negede Abebe]

As John Ray left the church, he once again refused to comment on the bill he helped write.

[John Ray]
Mr. Ray represents a so-called coalition of taxicab drivers and fleet owners which includes Jerry Schaeffer. City Paper's Loose Lips described Schaeffer as "the city's taxi king, who owns more than a dozen cab companies, sells cabbies insurance, and owns a whole lot of District land (including the parcel on New York Avenue NE where they city's first Walmart may go)."

In addition to Schaeffer, Ward 5 Councilmember Harry Thomas is also a client of John Ray. Mr. Thomas introduced the medallion bill along with Ward 8 Councilmember Marion Barry and At Large Councilmember Michael Brown. (The bill was co-sponsored by Ward 7 Councilmember Yvette Alexader.)

The lead editorial in the Sunday, May 22 Washington Post stated, "That Mr. Thomas – who wouldn't talk to us about why medallions are a good idea – has personally used Mr. Ray to represent him in the separate matter of still-unresolved questions about his nonprofit should add to the unease. Mr. Ray told us he saw no problem in writing legislation to benefit one group of clients while getting another client to advance it."

Monday, Attorney General Irv Nathan sued Councilmember Thomas for the alleged misuse of more than $300,000 in taxpayer money. On Wednesday, Thomas, who maintains his innocence, stepped down as chair of the Committee on Economic Development. Monday afternoon on the steps of the John A. Wilson Building, Thomas addressed reporters as he stood beside his other attorney, Fred Cooke.

[Councilmember Thomas]
After the mayor's press conference on Monday, the Washington Post's Mike DeBonis asked Gray about the Attorney General's investigation of Thomas.

[Mayor Gray]
Councilmember Thomas, who maintains his innocence, will continue to serve on the other committees he sits on, including the Committee on Public Works and Transportation, to which the medallion bill has been referred. Ward 6 Councilmember Tommy Wells, who chairs the Committee, has stated that he will hold a hearing on the medallion bill before the Council's July recess.

The five members of the Committee on Public Works and Transportation are Tommy Wells, Harry Thomas, Ward 1 Councilmember Jim Graham, Ward 4 Councilmember Muriel Bowser and Ward 3 Councilmember Mary Cheh. I asked Ms. Cheh her thoughts on the medallion bill and she emailed the following response: "My first impression is it's a recipe for mischief—but I am waiting to see what happens at [the upcoming] hearing."

While Ms. Cheh has gone on the record, Dena Reed, the Interim Chair of the D.C. Taxicab Commission, continues to remain silent. This past week I asked to interview Ms. Reed at her convenience but she declined and stated that she was uncomfortable speaking with reporters and taking on a public role. While one can sympathize with Ms. Reed's desire to not face public scrutiny the fact of the matter is that she is heading up a public agency. What's more, in her capacity as interim chair she has not just acted as a placeholder. Instead Ms. Reed is attempting to push through industry altering changes to Title 31, the legal framework that governs the taxicab industry.

Unfortunately, neither Ms. Reed nor anyone else from the Gray administration has been willing to go on record explaining why they are attempting to push through these changes to Title 31. Earlier today, Haimanot Bizuayehu, board member of The Small Business Association of DC Taxicab Drivers, laid out his concerns with the proposed changes to Title 31.

[Haimanot Bizuayehu]
The D.C. Taxicab Commission is scheduled to hear comments on Ms. Reed's proposed changes to Chapters 5 and 9 of Title 31 at the next Commission meeting. Initially scheduled for this coming Wednesday, the meeting has been postponed until Wednesday, June 22 at 10:00 a.m. Ms. Reed left me a voice message explaining that she was unable to get a quorum for this coming Wednesday so the DCTC meeting has been postponed until Wednesday, June 22. The location for the meeting has not yet been determined, according to the DCTC website.

This week, the local media, led by the Washington Post, continued its daily assault on Mayor Gray's administration and his character. At Wednesday's press conference Gray challenged members of the press to offer more balanced reporting on his administration.

[Mayor Gray]

Earlier in the week Mayor Gray responded a reporter's question about the impact the repeated allegations have had on his administration.

[Mayor Gray]

The Washington Post may have a double standard when it comes to its reporting. For example, the coverage of former Mayor Adrian Fenty – who the Post endorsed – is very different than the coverage of Gray. Additionally, the Post, while seeming to closely cover every Council misdeed, continues to turn a blind eye towards Ward 2 Councilmember Jack Evans. Evans – as was the case with Fenty – is a strong voice on behalf of the city's wealthiest residents and businesses. Interestingly, his potential conflicts, which may be far more serious than those of his progressive colleagues, continue to go uncovered.

John Hanrahan is a former Washington Post reporter and longtime constituent of Jack Evans. Late last year we sat down for an extended conversation about Mr. Evans' potential conflicts in his dual roles as both the chair of the Committee on Finance and Revenue, as well as a paid employee of Patton Boggs, one of the country's largest lobbying firms. Hanrahan focused on one particular deal: the construction of the convention center hotel, for which more than a quarter billion in taxpayer subsidies has been allocated. I began by asking John Hanrahan to describe his councilmember, Jack Evans.

[John Hanrahan]
Despite the Washington Post's recent in-depth coverage of potential misuse of public funds by local officials, Mr. Evans name never seems to come up. We turn now to Aurora Vasquez, an attorney who has assisted drivers in several jurisdictions. Last month I spoke with Aurora outside the Prince George's County Council.

[Aurora Vasquez]
Some drivers are hoping that Ms. Vasquez will join the struggle in D.C. She would likely be the first to point out that whether that happens or not is of far less importance than whether drivers continue to organize, just as they have in Prince George's County and as we're seeing with The Small Business Association of DC Taxicab Drivers.

Drivers who would like to become members of the Association can visit the driver-owned companies that make up the group. They include: Allied Cab, Ambassador Cab, Black Pearl Cab, Camel Cab, DC Professional Taxicab Drivers' Association, Dominion, Grand Cab, Luxury Cab, Pleasant Cab, Seasons Cab, Swift Cab, Travelers Cab, UCC Cab, Washingtonian Cab, Welcome Cab, and Wonder Cab.

Lastly, before turning to the phones, an announcement: for Amharic speaking drivers looking for more information and updates about the medallion bill and other important taxicab issues, there is a popular Saturday evening telephone conference from 9:00-11:00 p.m. The number for the phone conference is (712) 432-3100 and the code is 140 465.
We now turn to the phones. The station number is (703) 534-9878 …
Past Shows:
The Voice of DC Cab Drivers, June 6, 2011: The Freedom Plaza Rally
The Voice of DC Cab Drivers, May 29, 2011: DCTC Locks Drivers Out