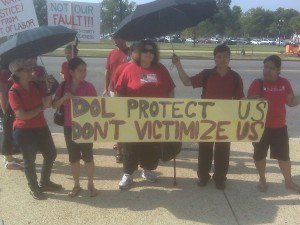 Audio clip: Adobe Flash Player (version 9 or above) is required to play this audio clip. Download the latest version here. You also need to have JavaScript enabled in your browser.
"Okay, we've made use of you. Okay, it's time for us to dump you." – Charisse Cabrera, pre-kindergarten teacher, on PGCPS's recent actions
Is the Department of Labor teaming up with Prince George's County Public Schools to punish foreign teachers who blew the whistle on illegal activity? Or is DOL assisting PGCPS in eliminating large numbers of teachers who are least able to fight back against their firings? Well, one thing is for sure, a growing number of Prince George's County teachers and their allies are upset at the actions of DOL and PGCPS.
"We understand there's a budget crisis in the County and there's a reduction-in-force that is in place, but we feel that we shouldn't be the scapegoats," said Maria Urbano, a special education teacher at District Heights Elementary School.
Urbano is among the 1,044 teachers whom PGCPS recruited from overseas through the H-1B program. The county, however, failed to pay the fees incurred by the teachers for their visas, and DOL found PGCPS to be a "willful violator" of federal labor law and ordered the school system to pay $4.22 million in back wages.
"The Labor Department has the responsibility for ensuring that employers who use the H-1B program follow the law and do not place U.S. workers at a disadvantage to H-1B workers," Secretary of Labor Hilda Solis said in a press release. "We are pleased this investigation has been resolved with workers paid all the back wages to which they are entitled."
But Urbano doesn't view the DOL decision as a victory because the ruling prevents PGCPS from renewing the H-1B visas. Without an extension to their H-1B visas, Urbano and hundreds of other teachers in Prince George's County will lose their immigration status, forcing them to leave the U.S.
"Although we realize that the DOL is upholding the law by debarring PGCPS, we strongly believe that a punishment victimizing the very people it's supposed to protect is grossly unjust," said Katrina Dizon, president of the D.C. chapter of the Asian Pacific American Labor Alliance (APALA). "Workers should not be afraid to speak up against abusive employers due to the fear of retaliation, and that's exactly what is going on here."
The timing of the DOL decision is fortuitous for PGCPS, which is carrying out mass layoffs. "The debarrment thing, it's just an excuse for them to get rid of us," said Charisse Cabrera, a pre-kindergarten teacher at Carole Highlands Elementary School, who was the subject of a recent Washington Post article.
It's not a coincidence that Cabrera, Urbano and many other teachers in Prince George's are from the Philippines. PGCPS contracted with a Filipino recruitment agency, Arrowhead Manpower Resources. It's worth noting that Prince George's County officials played a hands-on role in the hirings. Several officials, including now-Superintendent William Hite, Jr., traveled halfway across the world to Manila to speak with candidates.
But now that times have gotten tough, Cabrera feels county officials are sending an altogether different message. "We feel like after we've done our job, [PGCPS is saying], 'Okay, we've made use of you. Okay, it's time for us to dump you.'"
"We are stuck in the middle of all these government mandates and institutions that try to protect each other," said Urbano. "Because of this prevailing anti-immigrant sentiment and this budget shortfall across the country, [the] priority [isn't] on us."
Partido ng Manggawa, the Philippines Labor Party, issued a statement calling the DOL decision an "appalling injustice." The party questioned "why the DOL is silent on the role of the placement agency that clearly has some violations."
The Labor Party statement continued, "With this decision, the DOL is party to an unfair labor practice that is equivalent to retaliatory action against teachers and union members who initiated complaints against their employer. This kind of ruling would be welcomed by employers who aim to terminate those employees who stand up against them." Partido ng Manggawa "is calling for the Department of Labor to retract its original decision and issue a ruling that is fair and just."
Katarungan, a Filipino-American, grassroots, human rights group, started an online petition at Change.org which makes a similar demand. "PGCPS Committed Wage Theft. DOL Stole their Dreams!… Tell the DOL that these teachers should not be punished with job loss and deportation because of their employer's willful failure to comply with the law."
"America is so big on freedom and justice," said Cabrera. "But in our situation, where is justice?"
Related sites:
http://www.pen-usa.org/