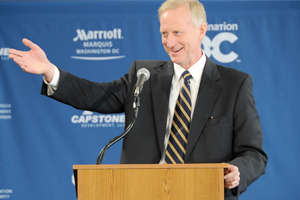 LISTEN TO JOHN HANRAHAN: 
Audio clip: Adobe Flash Player (version 9 or above) is required to play this audio clip. Download the latest version here. You also need to have JavaScript enabled in your browser.
"I think Mr. Evans needs a course in anger management and constituent relations," former Washington Post reporter John Hanrahan said in response to being called "a f—ing idiot" by Ward 2 Councilmember Jack Evans. "I'm amazed that he would let a potential conflict of interest matter linger for two years just because he doesn't like the person who raises questions about his recusals on an issue of such deep public importance," Hanrahan told TheFightBack in a Nov. 8 interview livestreamed (at OccupyDC.org) from the ongoing occupation at McPherson Square on K Street.
In a series of articles and letters to officials, Hanrahan pointed out that Evans hasn't complied with the law and filed a written explanation for his sudden recusals on the convention center hotel financing package in June 2009. The deal, which Evans spent years working on, provides $272 million in public subsidies to assist Marriott in building a 1,167-room hotel.
Hanrahan questioned whether Evans – who in addition to his $125,000 council salary, earns $190,000 a year from Patton Boggs, the powerhouse lobby firm – might have a conflict of interest with convention center hotel deal. Evans at first denied the charge, and also called Hanrahan "a f—ing idiot" for good measure. Shortly thereafter, however, the councilmember was forced to backtrack when an unlikely source revealed that he did indeed have a conflict. A 2009 email from Evans' official email address to a D.C. resident said:
"I recused myself from the recent consideration of the financing legislation for the convention center hotel as my law firm, Patton Boggs, represents ING who are equity partners in the private financing part of the hotel. Until this development in June 2009, I previously did not have a conflict of interest."
More than two years later, Evans still has yet to file a written explanation for his recusals, as required by law, and has no intention of doing so, as he explained in an email response to TheFightBack.
Interestingly, at a recent hearing it was Evans who spoke out most forcefully against this very type of behavior. "If you are found guilty of failing to disclose things on your statements you have to give up your seat on the council or resign as mayor," Evans said late last month as the council debated various ethics bills. "I bet that will get people's attention."