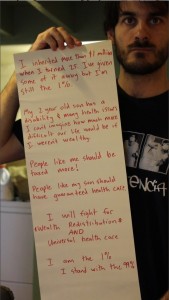 LISTEN TO BURKE STANSBURY:
Audio clip: Adobe Flash Player (version 9 or above) is required to play this audio clip. Download the latest version here. You also need to have JavaScript enabled in your browser.
"The One Percent are… being targeted by this movement, and rightfully so," Burke Stansbury, an activist who inherited over a $1 million at age 25, told TheFightBack yesterday in an interview livestreamed from Occupy DC at McPherson Square on K Street. "Taxes on the wealthy are at a historic low," he said.
Right now in the U.S., said Stansbury, "we have a discussion about a budget crisis instead of what it really is, which is a revenue crisis." The problem could be addressed by increasing the capital gains and estate taxes, as well as implementing a tax on financial transactions, explained Stansbury.
"There's tons of ways that we could create revenue if Congress had the nerve, had the guts, to do that… [but] clearly a lot of the interests in this country, from banks to corporations to rich people, don't want that to happen," he said.
In addition to being a communications specialist for nonprofit groups (including TheFightBack, where he's the webmaster), Stansbury is a volunteer organizer with the Resource Generation, a group whose members seek to use their wealth to support social justice efforts, such as the occupations.
"I think it's important to show that there are folks who have wealth, for whatever reason, and who… recognize the need for change. We can all work together to make this happen."
Related Links:
Related Stories: