Listen to the July 14 The Taxi Link on WUST 1120 AM. 
(Listen to Councilmember Mary Cheh discuss the VeriFone contract 30:21 – 33:24)
Audio clip: Adobe Flash Player (version 9 or above) is required to play this audio clip. Download the latest version here. You also need to have JavaScript enabled in your browser.
Last week, the D.C. Council approved an overhaul the city's taxicab industry. Ward 3 Councilmember Mary Cheh's bill, which passed 11-1, requires drivers to install new meters made by Verifone, a California-based company which the District is signing a 5-year, $35 million contract with.
While the meters will play ads in drivers' privately owned cabs, drivers will see none of the ad revenue, which will instead be captured mostly by Verifone, with a much smaller portion going to the troubled D.C. Taxicab Commission. 
Initially, District officials said the meters would be installed at no cost to drivers, but shortly before the second and final vote Mayor Vincent Gray and taxi chair Ron Linton announced that drivers would have to pay $300-500 each. Then, after hundreds of drivers attended The Small Business Association of DC Taxicab Drivers'  (SBA) back to back protests Monday and Tuesday outside the John A. Wilson Building, Cheh announced that the District had done yet another about-face and drivers would not pay an installation fee, but instead would pay for a new dome light, estimated to be $150-200.
The cost of installing the new meters will be paid for through a passenger surcharge of up to $0.50 per ride, which is anticipated to raise $10 million a year. The Taxicab Commission is holding a special meeting on the surcharge Wednesday, July 18 at 10 a.m. in the Old Council Chambers at One Judiciary Square, 441 4th St., NW.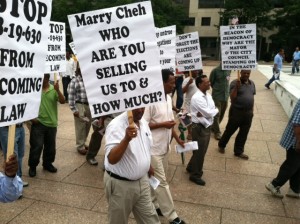 The new meters will have credit card readers, as well as GPS tracking devices. As the result of an amendment introduced by Ward 6 Councilmember Tommy Wells, drivers will only be tracked when they have passengers, and the data won't be transmitted to the District government in real time, but instead will be held for 24-hours and then sent anonymously, a measure which the SBA pushed for.
The SBA was also successful in lobbying to have the bill amended so as to exclude taxicab associations from being required to have 10 percent of their fleet consist of wheelchair accessible cabs. Unlike companies, which have owners for whom drivers work, associations are collectively owned by independent taxicab operators. With the cost of a new handicap vehicle around $40,000, a number of associations could have been driven out of business had they been subjected to the handicap accessible vehicle requirement.
Much of Tuesday's debate surrounding Cheh's bill focused on the unregulated sedan service Uber. "[It's] a black car free to pick up anybody in the city and charge any rate they want," Negede Abebe, chairman of the SBA, told 200 fellow drivers protesting at Freedom Plaza the day before the vote. "Let the playing field be level." Abebe's words went unheeded as the Council approved stricter regulations on taxicabs, while simultaneously voting to allow sedan services like Uber to continue operating without regulation.
"They control our rates, they control our movement," Abebe said of the District government. "But they allow similar businessmen to come into the city without any regulation," Abebe said to TheFightBack's Pete Tucker and ANC commissioner Tony Norman, co-hosts of the SBA's radio program, The Taxi Link, which airs Saturdays on WUST 1120 AM.
"This is the wild, wild west," said Norman, who's an attorney. "[This is] what's known in the law as 'arbitrary and capricious.' Why did you decide not to regulate these people [while] regulating other people? It is discriminatory."
One element of Cheh's bill that has received little to no attention is the codifying of the Taxicab Commission's heretofore illegal composition. Existing law required the nine-member commission to have three taxicab industry representatives, but the definition of 'industry member' was expanded to include those "experienced in the transportation or hospitality industry," thus allowing the already powerful hospitality industry to have greater control over the lives of taxicab drivers.
Related Stories:
Taxi Drivers Call for Protests Ahead of Council Vote, July 8, 2012