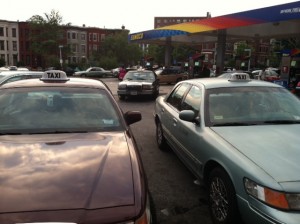 Listen to The Taxi Link, Aug. 11:
Audio clip: Adobe Flash Player (version 9 or above) is required to play this audio clip. Download the latest version here. You also need to have JavaScript enabled in your browser.
"[I question] whether this is racial or not," D.C. Taxicab Commission (DCTC) member Stanley Tapscott said after the commission's meeting last week at which it approved increased fines for drivers and other changes to the regulatory code that governs the industry. "If it was a white industry would they be putting all these rules on us?"
Tapscott, a longtime driver and former member of the commission, was the sole vote against the changes to Chapter 8 of Title 31 which include steep fines for a variety of violations, including several $1,000 fines for misuses of the soon-to-be-installed taxi smart meters. The two commissioners who joined taxi chair Ron Linton in voting in favor of the amendments are both representatives of the hospitality industry – Elliot Ferguson, CEO of Destination DC, and Bart Lasner of Loews Hotels. 
"The fines that they have in Chapter 8 are godly unreasonable… This is going to put a lot of drivers out of business," said Tapscott, who called the commission a "kangaroo court." Newly seated commissioner Anthony Muhammad, also a driver, was prevented by Linton from voting on the changes to Chapter 8, just as Tapscott had been in May. "Counsel has ruled that [there's a] necessity of recusing yourself since you did not participate in any of the previous discussion," Linton told Muhammad.
"That's very disturbing… Once again, that's Linton being dictatorial," said Tony Norman, co-host of The Taxi Link and chair of WPFW's board. "This is a heavy hand[ed] chairman just pushing his way and bullying his way, trying to stop these commissioners from voting. He knows that these are new taxicab driver commissioners and so he's trying to prevent them from voting," Norman told Will Martin, guest-host of The Taxi Link, which is sponsored by The Small Business Association of DC Taxicab Drivers (SBA).
Also discussed on The Taxi Link was the SBA's upcoming general meeting Sunday, August 19 at 2:30 p.m. Monday, August 27 at 1:00 p.m. at Kedus Gabriel Ethiopian Orthodox Church at 2601 Evarts St., NE, as well as the DCTC's upcoming meeting August 22 at 10 a.m. at One Judiciary Square (441 4th St., NW).
Related links:
Washington Post's Mike DeBonis interviews D.C. taxi chair Ron Linton
Related stories:
The Taxi Link, Aug. 4: The Lawsuit, the Media and the Mayor