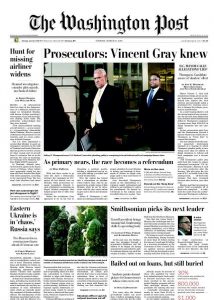 Imagine, on the eve of a contested election, a top law enforcement official accuses a candidate of potentially serious misconduct. But instead of putting the charges before a judge or jury, the top official levels them in the court of pubic opinion, just as voters head to the polls.
Sound familiar?
Hillary Clinton isn't the first to face this. It happened just two years ago.
The office at stake wasn't 1600 Pennsylvania Avenue, but 1350 – the D.C. mayor's office.
And the response of the media wasn't widespread condemnation as it is today.