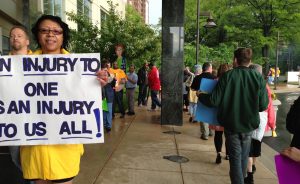 "People say slavery is done… [but] it's still there – in the corner," says Gulnahar Alam, a domestic worker who, like many others, suffered workplace abuses. To combat this exploitation, often hidden away in employers' homes, Alam began organizing. "People feel very powerful and so much more confident when they see that they are not alone. They no longer feel ashamed."
Alam's story is one of 18 brought to life in Shifting the Universe: Spoken Histories of Work & Resistance by first-time author Candace Wolf.
Professionally, Wolf is a storyteller; she's also a keen listener. And from 2010-2015 she carved out time to hear the stories of regular people – from different walks of life and parts of the globe – who, despite serious challenges, evolve into troublemakers of the best kind.
The book couldn't come at a better time. Amidst today's political chaos, as President Trump stumbles towards possible impeachment, Wolf's book offers a longer view.
"The long memory is the most radical idea in America. That long memory has been taken away from us," said the late folk singer Utah Phillips, who Wolf quotes. "We're being leapfrogged from one crisis to the next. You can't remember what happened last week because you're locked into this week's crisis."