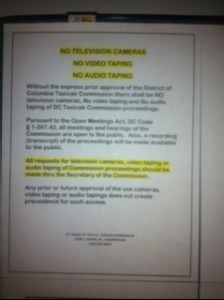 Listen to Dena Reed attempt to kick Fox5 photojournalist Jason Smith out of the March DCTC meeting
Audio clip: Adobe Flash Player (version 9 or above) is required to play this audio clip. Download the latest version here. You also need to have JavaScript enabled in your browser.
The DCTC has a new policy regarding public meetings. "Without the express prior approval of the District of Columbia Taxicab Commission there shall be NO television cameras, No video taping and No audio taping of DC Taxicab Commission proceedings," according to a sign posted at the DCTC offices at 2401 Martin Luther King Jr. Avenue, SE.
In a phone conversation with TheFightBack Tuesday afternoon, interim DCTC chair Dena Reed said cameras would be "disruptive" because there are taxicab "drivers who take a different attitude when a camera is on." Reed also cited the lack of space in the DCTC hearing room as a reason for barring cameras.
Today's 10 a.m. meeting of the DCTC is the first since Mayor Gray fired former-chair Leon Swain. It is also the first meeting chaired by Dena Reed, who previously served as DCTC general counsel.
In that capacity Ms. Reed attempted to ban the filming of the March meeting of the DCTC. "If the cameras don't leave the room we're not going to have the meeting," Reed told Fox5 photojournalist Jason Smith. Swain then stepped outside the hearing room to confer with Reed. When he returned, without Reed, Swain stated that the camera would be allowed to stay.
Shortly after the March meeting the new rules were posted, according to Reed. The last paragraph states, "Any prior or future approval of the use of cameras, video taping or audio tapings does not create precedence for such access."
In other words, just because you used to be able to record the public meetings of the DCTC doesn't mean that you will be able to any longer. That's troubling.
Also troubling is Reed's attempt to use today's meeting to overhaul – with little to no public input – Title 31 of the District of Columbia Municipal Regulations which governs the taxicab industry.
"She rewrote two chapters of Title 31," said Larry Frankel, chair of the Small Business Association of Taxicab Drivers. "And those two chapters concern most of the operating regulations for taxicab drivers."
Reed is attempting to overhaul Title 31 without conferring with drivers and she is presenting these changes at a public meeting in which the press is barred. Does this pass the smell test?