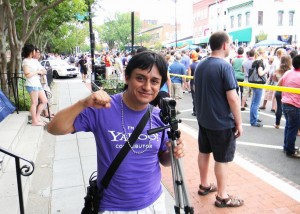 LISTEN TO CARLOS QUIROZ:
Audio clip: Adobe Flash Player (version 9 or above) is required to play this audio clip. Download the latest version here. You also need to have JavaScript enabled in your browser.
Earlier this month, leftist Ollanta Humala was elected president of Peru, narrowly defeating the right-wing candidate, Keiko Fujimori, daughter of former Peruvian President Alberto Fujimori, who was convicted of human rights abuses and is now in prison.
For Carlos Quiroz, a local D.C. blogger who hails from Peru, it was a critical election. "As you might know, Latin America is a very unfair region where very few people have it all and the majority lack opportunities and they live in poverty. And Peru is one of those examples," Quiroz said June 11, as he took a break from covering the Capital Pride Parade for his blog Carlos in DC.
"It's a very unequal country and that's why I decided to spend a lot of my time in the last few months supporting [the Humala] campaign without any type of financing or funding or any type of political affiliation. My only concern was to promote true democracy and civic participation of Peruvians and I think a social movement has been born. And it's not just me. I'm one of thousands of people who have used the internet, social media, in order to promote change in Peru. And it's been a great success."
In addition to Carlos in DC, Quiroz also blogs at Peruanista, which "is mostly about Peru, Latin America and the influence of U.S. policies in the Americas," according to the website. "I have more popularity as a blogger in Peru than here," said Quiroz. "[This] allowed me to influence in some way the Peruvian elections. I reached out to grassroots organizations, especially youth groups in Lima in order to train them and push them to take action."
"It's a historical election because Peru and Mexico have been the strongest colonial societies in Latin America. It's the two places where the European contact started in Latin America and [they have] been the most conservative societies. We see that in South America only Columbia and Chile are still run by right-wing governments; even Columbia is getting closer to Venezuela every day."
"Latin America is saying we don't want to be seen as the source of natural resources and cheap labor any more. We want equality… I can tell you those [left-leaning Latin American] governments are not anti-U.S., they are anti-imperialism, anti-colonialism, which has been the pattern of relations between the U.S. and Latin America for centuries."
With the election in Peru completed, Quiroz will now turn his attention to a personal – and political – matter. "I overstayed my visa and right now I am trying to fix my immigration status. And that's the next step [in] my blogging process because I'm going to write about what it means to be undocumented and living in the shadows and do[ing] the things that I do with limited resources."
"Whether I stay or not I'm going to continue blogging," said Quiroz, who first started blogging because "the corporate media here [in the U.S.] hardly ever reflects our voices, our opinions, and the same thing in Peru. So it was just a way to say, 'Hello, we're here.' I want to bring the stories that usually are not covered by corporate media because it's necessary."
Related Links:

Related Stories: