Listen to David Rovics Here:
Audio clip: Adobe Flash Player (version 9 or above) is required to play this audio clip. Download the latest version here. You also need to have JavaScript enabled in your browser.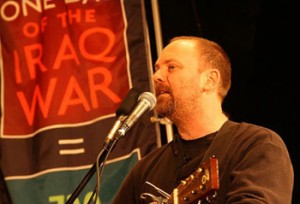 "He's one of the most heroic figures of our times," activist and singer/songwriter David Rovics said of Private Bradley Manning, who's charged with leaking hundreds of thousands of secret US government documents to WikiLeaks, the whistleblowing website. "Getting these documents out into the public was an absolutely heroic thing to do and he's paying the price for it [with] the government trying to put him away for life or maybe even worse," Rovics told TheFightBack last night after he performed at the occupation at D.C.'s Freedom Plaza.
Manning, who turns 24 today, could potentially face the death penalty, which Army officials have said they will not seek, although the final decision rests not with them but with a "convening authority." Yesterday at Fort Meade, the pre-trial military hearing for Manning began, more than a year and a half after the US military first detained him. Manning's pre-trial detention included ten months of solitary confinement and forced nudity, which led to an international outcry.
"Eighteen months of detention with no charges, nothing," said Rovics, who attended a vigil for Manning yesterday outside Fort Meade and performed at a rally there today. "It's impossible for him to get a fair trial. He's already been found guilty by nobody less prominent than the president of the United States… [who] referred to [Manning] as a criminal."
Manning's attorney, David E. Coombs, is also making the case that his client cannot get a fair trial. Yesterday, Coombs asked the presiding officer, Army Lt. Col. Paul Almanza, to recuse himself from hearing the case because Almanza works at the Justice Department, which is investigating WikiLeaks co-founder Julian Assange. Almanza – who refused to allow all of the defense's witnesses to testify except for two, but approved all 20 of the government's witnesses – denied the request, a decision which Coombs is appealing.
In his "Song for Bradley Manning," which he performed today, Rovics sings:
"Sometimes you need desperate measures when you live in desperate times
And Private Manning saw he was looking at war crimes
He wondered what to do to allow the dead to speak
He finally decided to contact WikiLeaks
Now it's all out on the table and everybody knows
The emperor is naked, he's not wearing any clothes"
The crux of the government's case against Manning is that his alleged leak threatened national security. Salon's Glenn Greenwald, who has closely followed Manning's case, writes: "From the start, US claims about the damage done have been wildly exaggerated, even outright false. After the release of the Afghanistan war logs, officials accused WikiLeaks of having 'blood on their hands,' only to admit weeks later that they were unaware of a single case of anyone being harmed. That remains true today."
In addition to being Manning's birthday, today marks the one-year anniversary of the death of Mohamed Bouazizi, the 26-year-old Tunisian street vendor who set himself on fire. In "Occupy Wall Street," which he's performed at occupations throughout the U.S. and Canada, Rovics sings:
"… [W]e're learning how to stand up like Tunisians
Like they did in Tahrir Square
Where a young man named Mohamed Bouazizi
Struck a match that lit up all the Earth
And all around the world the spell was broken
And a movement for the future was in birth
Because there's only so much s*** the rich can feed us
Before we figure out which side we're on
Because we've learned if we want our liberation
It will come only if we stay here til the rising of the dawn"
"It very much has its roots in Tunisia and the rebellions throughout the Arab world," Rovics said of the U.S. Occupy movement. "Savor the moment. There's something happening and now is the time to get involved."
Related Links:
OccupyTogether.org
FreeBradley.org
Related stories:
Private Bradley Manning: The Quantico Protest, March 22, 2011
"Occupy the USA," Says/Sings Emma's Revolution, Oct. 8, 2011