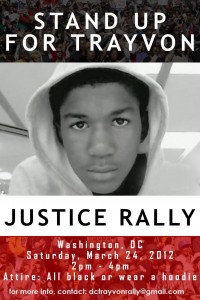 Listen to speakers from Saturday's rally at Freedom Plaza
Audio clip: Adobe Flash Player (version 9 or above) is required to play this audio clip. Download the latest version here. You also need to have JavaScript enabled in your browser.
The death of 17-year-old Trayvon Martin has given life to a movement that seems to grow exponentially with each passing day. On a rainy Saturday afternoon, thousands heeded the call put out on Facebook and black radio and descended upon Freedom Plaza.
"We have to make sure that this is a shot heard around the world," said Maliaka, one of the event's four young organizers, as she looked out over a sea of protesters wearing black hoodies. Feb. 26, the night Trayvon was murdered by a neighborhood watch volunteer, he wore a black hoodie as he walked home.
"This is nothing but a modern day 21st century Emmet Till," said radio host Joe Madison. The sudden, large and growing movement surrounding Trayvon's murder may indeed cause his name to go down in the history books alongside other victims of U.S. racism whose death helped spur a movement for change, like the recently executed Georgia death row prisoner Troy Davis, as well as Till, whose 1955 open casket funeral showed his disfigured 14-year-old body to the world and forced the ravages of racism into public consciousness.
"Sick people do sick things," said Saturday's emcee, Rev. Tony Lee, WPGC radio host and pastor of Community of Hope AME Church in Temple Hills. Lee was referring to 28-year-old neighborhood watch volunteer George Zimmerman who shot and killed Trayvon in Sanford, Florida.
In Zimmerman's 911 call, he described Trayvon, who was unarmed except for a pack of Skittles and an iced tea, as "a real suspicious guy… [who] looks like he's up to no good, or he's on drugs or something." Zimmerman followed the African-American teenager even after the 911 dispatcher said, "we don't need you to do that." Later in the 911 call, one of the 46 he made since January 2011, Zimmerman appears to use a racial slur, "[expletive] coon," to describe Trayvon.
"The problem we're facing right now is not just sick people doing sick things, but a sick system that will not allow justice to be heard," said Rev. Lee.
For three days, as Trayvon's family searched for him, Sanford police didn't ID the boy's body, but instead labeled him a "John Doe." Since police had Trayvon's cell phone they almost certainly possessed more than enough information to make a timely identification, yet they failed to do so. What's more, in addition to running a background check on Trayvon, police tested his body for drugs and alcohol, but failed to do the same for Zimmerman, who was sent home without a charge, and with his weapon.
Likely spurred by the international outcry, the Department of Justice has opened a federal investigation. And Friday, President Obama weighed in, saying, "If I had a son, he'd look like Trayvon." Saturday, D.C. Council Chairman Kwame Brown wore a black hoodie as he addressed protesters.
"We were never able, in the history of the civil rights movement, to pull off in a week what you all are pulling off now," activist and comedian Dick Gregory told the crowd at Freedom Plaza.
Tens of thousands have already turned out at Trayvon rallies across the country and many more are likely to do so in the coming days. In the D.C. area alone, multiple actions are taking place this week, including a protest outside DOJ Monday from 4-5 p.m. at 1425 New York Avenue, NW. And Tuesday at noon, students at School Without Walls are leading a march from their school at 2130 G St, NW to the White House. Also in Baltimore, which has a vibrant student movement, an action is taking place Monday evening, culminating outside City Hall.