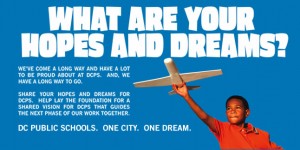 Listen to TheFightBack question Mayor Gray and Chancellor Henderson:
Audio clip: Adobe Flash Player (version 9 or above) is required to play this audio clip. Download the latest version here. You also need to have JavaScript enabled in your browser.
"We are going to have to consolidate the number of schools that we educate our children in," Mayor Vincent Gray said Wednesday at a press conference introducing D.C.'s new five year education plan. Gray said the D.C. Public Schools (DCPS) system is presently "unsustainable" and some schools must be closed in order to provide the "ancillary services [District residents] would like to see in schools."
Gray echoed the findings of a DCPS-commissioned study conducted by The Illinois Facilities Fund (IFF) which called for either turning around 38 schools or closing them, potentially converting them into charter schools.
The study was funded by a $100,000 grant from The Walton Foundation, i.e. Walmart, which is looking to bring six stores to D.C. and is known to promote charter schools, not traditional public schools (or their unions). In addition to the Walmart connection, education experts and activists also question the objectivity of IFF, which is a real estate consulting firm that has lent out more than $57 million to charters.
School officials, of course, knew about IFF going in, yet they selected the firm anyway, and in a less than transparent process.  De'Shawn Wright, D.C.'s deputy mayor for education, chose IFF without putting the contract up for competitive bidding, which he didn't have to do since the Walton Foundation was footing the bill, not taxpayers.
It's not surprising Wright was able to secure private funding for the study since he's accustomed to rubbing shoulders with the One Percent. Before coming to D.C., Wright worked behind the scenes to help secure a $100 million matching grant to Newark's school system from Facebook co-founder Mark Zuckerberg. In 2008, with assistance from the Walton and Bill & Melinda Gates Foundations, among other major donors, Wright helped found the Newark Charter School Fund, which in its first two years paid out more to consultants and administrators like himself than it gave to schools.
As the District announced it would be commissioning the IFF study, Wright offered his thoughts, which were remarkably similar to the conclusions the study would go on to reach. "Let's be completely candid here… we have to right-size the [school system]," he said. "If that ruffles a few feathers, then so be it."
D.C. Schools Chancellor Kaya Henderson seemed to be reading from a similar playbook as she stood alongside Gray at Wednesday's press conference, although she offered a gentler tone. "I don't want us to think about this just in terms of school closings," she said in response to TheFightBack's question. "I really want us to think about this in terms of right-sizing."
Henderson has spent several years trying to "right-size" D.C. public schools. As Michelle Rhee's Number Two, Henderson helped her predecessor close 23 public schools, mostly in D.C.'s less affluent communities. At the same time, Rhee/Henderson increased funding for public schools in wealthy upper northwest, as well as for charters, which now educate 40 percent of D.C.'s students, compared to only 5 or 6 percent nationally.
Henderson also played a key role in Rhee's campaign against DCPS teachers which culminated in a controversial contract funded with $64.5 million in private money, including $25 million from the Walton Foundation, which severely undermined teacher protections and tenure. (The union president who inked the deal, George Parker, went on to work for StudentsFirst, Rhee's organization which seeks to push her anti-teacher agenda nationwide, or at least in states where right-wing governors will take her in.)
Throughout the Rhee/Henderson reign, the public has been told, particularly by the conflicted Washington Post, that school reform is working, as evidenced by improving test scores. It turns out, however, these test gains may be the result of widespread cheating, as test erasure mark irregularities appear to indicate. D.C. Inspector General Charles Willoughby says he's looking into the situation, but it's unclear how carefully.
What is clear is that the Rhee/Henderson agenda continues apace. Ironically, now Gray is leading the charge despite the fact that he came into office in no small part because of his opposition to these very policies.
The further irony is that D.C. officials are big promoters of "neighborhood schools"; at least in wealthier parts of the city. Officials, of course, aren't likely to plainly state this. Instead, they label schools in less affluent areas "underperforming," which then provides the needed justification for closing them.
In a starkly divided city, schools could be a great equalizer. With the continuation of the Rhee/Henderson reign, however, D.C.'s achievement gap, already among the nation's worst, may become even wider.
* This piece is cross-posted at The Urban Revival.