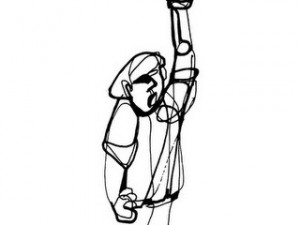 Listen to John Tuzcu on Voice of Russia Radio
Audio clip: Adobe Flash Player (version 9 or above) is required to play this audio clip. Download the latest version here. You also need to have JavaScript enabled in your browser.
"The day I arrived I was… told that I was at Red Onion now and if I act up they would kill me and there was nothing anyone could or would do about it." – 1999 Prisoner statement to Human Rights Watch
More than 40 prisoners began a hunger strike Tuesday to protest their treatment at a remote super-maximum security prison in southwest Virginia.
Red Onion State Prison has come under scrutiny of late for possible human rights abuses, particularly surrounding its use of indefinite solitary confinement, a practice which the hunger strikers are protesting.
According to a list of ten demands posted at the website of a newly formed group, Solidarity with Virginia Prison Hunger Strikers, the prisoners are also calling for: proper food, and more of it; better communication with prison officials, including the ability to file grievances; visitations by "third-party neutral observers"; improved sanitary conditions; access to medical care, as well as a monthly haircut.
The prisoners' tenth demand is that there "be no reprisals for any of the participants in the Hunger Strike."
They have reason to fear retaliation, says John Tuzcu, an activist with the newly formed solidarity group, as well as with Supporting Prisoners and Acting for Radical Change (SPARC).
"[They] are so isolated that often reprisals are meted out by the correctional officers and administrators," Tuzcu said Tuesday on Voice of Russia Radio's Capitol Correspondent, guest-hosted by TheFightBack's Pete Tucker. "That's why it's so important for media and outside individuals to put pressure on these institutions."
Virginia Department of Corrections spokesperson Larry Traylor said in a statement emailed to TheFightBack, "Red Onion State Prison has always operated constitutionally and protected the 8th amendment rights of offenders."
Human Rights Watch reached a somewhat different conclusion in its 1999 report: "The treatment of inmates at Red Onion State Prison… raises serious human rights concerns," the group noted.
A January Washington Post editorial, which came on the heels of Post reporter Anita Kumar's expose of Red Onion State Prison, also called into question the treatment of prisoners at the super-max facility.
"Deep in the heart of Virginia coal country sits a mountaintop prison, its remote location an outward expression of the plight of the inhabitants inside. Some 500 of its 745 inmates are held in solitary confinement – 23 hours a day, seven days a week, some for years – with virtually no human contact or meaningful stimulation," wrote the Post.
In the U.S., which is off the charts when it comes to locking people up, those behind bars are disproportionately people of color, and Red Onion State Prison is no exception, said Tuzcu.
"Most of the prisoners there are African American, from the urban centers, generally Richmond and Norfolk, eight, nine hours away, separated from their communities and families. So you have a very racially tense situation."
It's also a situation in which information is hard to come by. As a result of the hunger strike, said Tuzcu, "Unofficial reports say that the entire prison is in lockdown."
Related Stories:
Criminal (In)Justice in D.C., Feb. 22, 2012
Michelle Alexander on Mass Incarceration and The New Jim Crow, Jan. 28, 2012