Listen to IVAW's Maggie Martin on Voice of Russia Radio
Audio clip: Adobe Flash Player (version 9 or above) is required to play this audio clip. Download the latest version here. You also need to have JavaScript enabled in your browser.
"No amount of medals, ribbons or flags can cover the amount of human suffering caused by these wars."
With those words Maggie Martin, a sergeant who served two tours in Iraq, flung her war medals to the ground. More than 40 veterans did likewise in a ceremony outside the NATO summit in Chicago last weekend.
"It felt really liberating for me to be there with my fellow veterans and once again stand up publicly and say that we withdraw our consent," Martin said on Voice of Russia Radio's Capitol Correspondent, guest-hosted by TheFightBack's Pete Tucker.
She continued, "We're sorry for [our] participation in those wars and we want to say that we don't support them and that we're standing in solidarity with the people of Afghanistan and Iraq."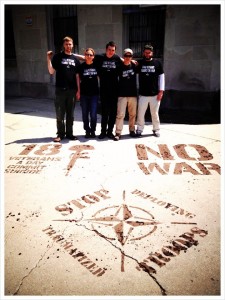 Each Memorial Day the nation pauses to honor U.S. soldiers who died in war, while all but ignoring the victims of U.S. foreign policy. The holiday also pays scant attention to the staggering number of U.S. soldiers who resolve their post-traumatic stress through suicide.
Martin, who's now a field organizer with Iraq Veterans Against the War, has been traveling the country with IVAW's Right to Heal tour, part of the group's Operation Recovery campaign which seeks to stop the deployment of traumatized troops.
Martin has a message to her fellow veterans suffering from traumatic injuries: "You're not alone. We're here to help you."
Related sites:
IVAW.org
Related stories:
Operation Recovery: Stop the Deployment of Traumatized Troops, Oct. 6, 2010
At Occupy DC, a Veterans Day Discussion with 21-Year-Old Vet, Nov. 12, 2011