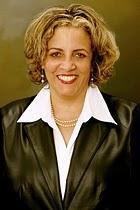 LISTEN TO CANDI PETERSON
Audio clip: Adobe Flash Player (version 9 or above) is required to play this audio clip. Download the latest version here. You also need to have JavaScript enabled in your browser.
"Here I am today, as the general vice president. Who could have thought this would have happened? But I'm glad it did," said Candi Peterson, the recently elected general vice president of the Washington Teachers' Union (WTU).
It was just last year that Peterson demonstrated outside the WTU office building at 1825 K St, NW in an effort to bring attention to then-WTU President George Parker's questionable actions. Last week, sitting in the office she heads up with her running mate, WTU President Nathan Saunders, Peterson traced her journey from teacher to blogger to vice president.
At her blog – The Washington Teacher, which has now become the official blog of the WTU – Peterson discussed being targeted by then-Chancellor Michelle Rhee, and Rhee's Number Two, Kaya Henderson, now Acting Chancellor.
"Just as the success of The Washington Teacher blog garnered interest from union members, it also drew the ire of the Rhee/Henderson administration as it covered the other side of the public education reform story that was rarely told by the mainstream media.
"My advocacy on behalf of teachers came with a high price and earned me a mandatory summons to meet with the Chancellor in 2008 about my involvement in political activities (i.e. protests, writing about DCPS, speaking to the press, etc.). These events marked the beginning of the harassment that I endured."
"The irony of my story is that now as the WTU general vice president, I sit across the table from [Acting] Chancellor Henderson's top staff who assisted in orchestrating my suspension. What I have learned from this experience is that ordinary people like me and you have the power to turn the tables, and make changes that start from the bottom up."
At the same time that Peterson was campaigning for WTU general vice president, she, along with many other teachers, campaigned for then-Council Chair Vincent Gray in his effort to unseat former Mayor Adrian Fenty. Peterson said of Gray's first months in office, "I'm disappointed… Teachers are disappointed, many of whom worked on his campaign. Our union is disappointed."
"We're facing education cuts right now. If you listen to Kaya Henderson talk we'll have class sizes of 22. But the reality is that's not true. We'll have class sizes, and we have class sizes now, that are 35 and 40. When you cut services to schools, particularly in education, then you cut services to students."
"We're concerned about what we're seeing [with Mayor Gray]… [W]e'll bring the political pressure necessary to get his attention, and to remind him that because of teachers, because of the support [from] the Washington Teachers' Union and the community, he was elected. We expect him to be a man of his word and if he's not then we will go after him with the same furor that we went after Fenty to get him unseated, if that need be the case."
Related Links:
http://thewashingtonteacher.blogspot.com/
http://www.wtulocal6.org/

Related Stories: