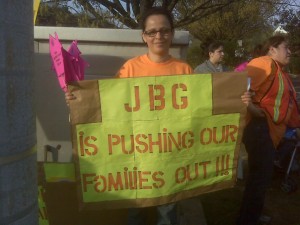 LISTEN TO VOICES FROM THE JBG PROTEST
Audio clip: Adobe Flash Player (version 9 or above) is required to play this audio clip. Download the latest version here. You also need to have JavaScript enabled in your browser.
"We want JBG to stop this utility craze that they're going on," said Tahseen Hamid, a tenant in JBG's apartments at Mark Center in Alexandria, Virginia.
April 11, Hamid and dozens of other JBG tenants disrupted the regional meeting of developers at the Hilton in order to voice their concern about being pushed out of their homes.
The Pentagon's Base Realignment and Closure (BRAC) process is shifting 6,400 jobs to Mark Center. At least that's the goal.
The Washington Post noted, "A new federal report says the Pentagon used faulty data to defend its plan to transfer thousands of defense workers to a massive Alexandria office complex, and local leaders are being urged to use the report in a legal effort to block the move."
Esteban Garces, an organizer with Tenants and Workers United, said, "JBG wants to take full advantage of those new employees [and] tear down all these apartments and create new homes that will clear out the biggest grouping of diversity the west end of Alexandria has."
Garces continued, "We're seeing that happen now even though the apartments are still here. They're raising utility bills because they can't raise rents because contracts are still in order. [Unfortunately] there's no law to protect the residents against utility bills going up."
Related Sites:
http://www.tenantsandworkers.org/ <http://www.tenantsandworkers.org/>