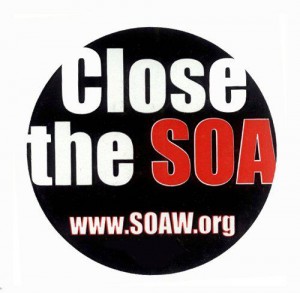 LISTEN TO STEVE JACOBS:
Audio clip: Adobe Flash Player (version 9 or above) is required to play this audio clip. Download the latest version here. You also need to have JavaScript enabled in your browser.
"Oppression needs complicity of silence to go on," activist and singer/songwriter Steve Jacobs sang for TheFightBack outside the U.S. Army base at Fort Benning, Georgia, home of the School of the Americas (SOA). Renamed the Western Hemisphere Institute for Security Cooperation (WHINSEC) in 2000, over the years SOA has trained tens of thousands of Latin American soldiers, many of whom have gone on to commit human rights abuses.
This past weekend, more than a thousand activists protested outside the gates of Fort Benning as part of the annual gathering which takes place on the anniversary of the 1989 murder of six Jesuit priests in El Salvador. "I've been coming down here since 1996 to protest the fact that the U.S. government is providing weapons and training to Latin American soldiers that have killed members of my Catholic faith," Jacobs said.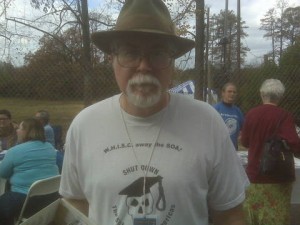 Time Magazine recently asked the question, "Is It Time to Shutter the Americas' 'Coup Academy'?" For protesters the answer is unequivocally "yes," and some have even gone so far as to use civil disobedience to make their case, at times landing them in jail for months.
Like the subject of one of his songs, Jacobs spent time behind bars in order to hasten the closing of SOA. In "The Ballad of Roy Bourgeois," Jacobs sings the life story of the Catholic Maryknoll priest who began the effort to close SOA more than twenty years ago.
While serving in the Navy in far off Vietnam
Saw firsthand the works of war, the bullet and the bomb

Amidst the death and suffering Roy learned another way
After Vietnam, Roy went to live and work as a missionary in Bolivia. This eventually led to his taking up residence directly outside the gates of Fort Benning when he learned that many of the acts of violence being perpetrated on Latin Americans could be traced back to SOA. "The Ballad" notes:
Now when you live among the poor you begin to question why
The rich receive the lion's share and the poor are left to die

And what good does the U.S. hope to gain by giving guns
[To] soldiers trained at the SOA who are killing priests and nuns?
Related Links:
soaw.org
Related Stories:
Rethinking Columbus Day: A Conversation with Catalina Nieto Oct. 10, 2011
Tunisia. Egypt. Mexico? Feb. 14, 2011