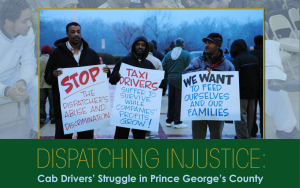 The Taxi Link airs Sat. 7-8 pm on WUST 1120 AM. Listen here: 
Audio clip: Adobe Flash Player (version 9 or above) is required to play this audio clip. Download the latest version here. You also need to have JavaScript enabled in your browser.
Aurora Vasquez is an attorney, driver advocate and organizer. Over the past decade she's played an instrumental role in successful cab driver struggles in the D.C. area, first in Alexandria then in Prince George's County.  "[This fight is] about cab drivers' right to seek and obtain economic opportunity without any unnecessary barriers," Vasquez told The Taxi Link. "It's an economic justice issue."
The struggle in Prince George's County, which continues to today, took off in the wake of a groundbreaking 2009 report, "Dispatching Injustice." "It really exposed, as we like to say, the dark underbelly of the industry," said Vasquez, who produced the report when she was with the Advancement Project. The report noted:
"The Prince George's County taxicab industry, a complex web of companies, is ruled by a handful of men who own and control not only the majority of these companies but also the county's dispatch service… Their control of the industry has led to concerns about the extent of free-market competition and economic opportunities for taxicab drivers, most of whom are immigrants from Africa, South Asia, and the Caribbean. Compounding these concerns, the companies have not been closely regulated, permitting a free-for-all that ultimately places drivers at the mercy of these companies."
This week's edition of The Taxi Link also examined concerns raised about the D.C. Taxicab Commission's regulation of smart phone apps and sedan services. Uber, the largely unregulated phone app and sedan service, complained, as did Ward 3 Councilmember Mary Cheh, chair of the transportation committee, who told WAMU the regulations "seem heavy handed."
In comments submitted to the D.C. Taxicab Commission, the Federal Trade Commission also weighed in. Some of the "rules proposed by DCTC may unnecessarily impede competition," the FTC said in a statement posted to its website. The taxi commission has scheduled a special meeting on this issue for June 25.
Meanwhile in New York City, drivers protested outside City Hall this week, ahead of the Taxi and Limousine Commission's scheduled June 20 vote on new rules. "[It's] a swooping set of 12 regulations that would really crush the income of taxi drivers," New York Taxi Workers Alliance executive director Bhairavi Desai told The Taxi Link. Desai, who also heads up the AFL-CIO-chartered National Taxi Workers Alliance, had a message for D.C. drivers. "How could we have a national movement if those that move the capital of this country are not a part of it?"
And in D.C., cab driver Allsaints Macauley has started a petition at change.org to exempt drivers from having to wear seat belts at all times, not just when they have a fare between the hours of 6 p.m. and 6 a.m. "The incident that brought about the [late night] exemption was the stabbing of a cab driver at 4 p.m. Wouldn't it be sensible for the seat belt law to read, 'cab drivers are exempt from the seat belt requirements at all times when they have passengers?'" asks the petition.
And in a follow up to last week's show, details for the funeral service for Solomon Okoroh are still being finalized. Okoroh, a 57-year-old father of five, was shot and killed June 4 in Adams Morgan while driving two passengers in his cab.
In an email to The Taxi Link, Evelyn Ruiz, owner of Classic Cab, the company for which Okoroh drove for fifteen years, said the fund created for the Okoroh family has raised just $1,300 to date and the family is struggling to cover funeral expenses. Donations can be sent to the Okoroh family, care of…
            Classic Cab Company             1729 Bladensburg Rd, NE             Washington, DC 20002  
The Taxi Link airs Saturday 7-8 p.m. on WUST 1120 AM. The show is sponsored by The Small Business Association of DC Taxicab Drivers, hosted by TheFightBack's Pete Tucker and D.C. Advisory Neighborhood Commission 1B chairman Tony Norman, produced by Will Martin and engineered by Mark Taylor