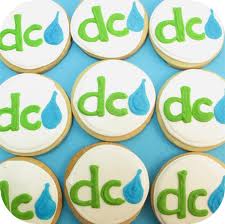 By Thomas Hedges – Find his reports at Truthdig. 
George Hawkins faced a tough question when he became General Manager of the DC Water and Sewer Authority in 2009. Should DC Water stick to the 2005 federal consent decree, which requires it start building three new tunnels in 2015 to deal with combined sewer and storm water overflow as part of its Long-Term Control Plan (LTCP), or should it reopen discussions with the EPA in an effort to give green infrastructure, which is not as reliable as are tunnels, a bigger role in the project? 
The first path, which relies on traditional gray infrastructure, is attractive because of its certainty. Tunnels work. We can measure their capture. We know how to maintain them. Hawkins also knows that they'll soak up 96 percent of the city's storm water and keep it from overflowing into the river. Anything over 90 percent is impressive.
The other path is to pair the tunneling with a series of green infrastructure projects that are meant to absorb rainwater and prevent much of it from entering DC's sewer system. 
While gray infrastructure comes with few surprises, Hawkins said, perhaps it is time that cities reevaluated the ways in which they deal with water and sewage. Gray infrastructure means a lot of labor and construction, most of it under ground.
The tunnel that runs along the Georgetown waterfront, for example, is set to measure 34 feet in diameter. That's three stories high. It's also slated to start just south of the Kennedy Center and go all the way up to Key Bridge, which spans one of the most valuable pieces of real estate in the whole city. There might be construction in the park on the waterfront. Also, the traffic will worsen during the construction period.  
In the last few years, since he took over as general manager in 2009, Hawkins has been more and more attracted to the second approach. Green infrastructure, he said, offers more jobs and involves more of the community. With gray infrastructure, it's DC Water alone that tackles the problem of wastewater. With green infrastructure, Washington residents would play an important role in "greening" their properties as a way of complying with the EPA's 2005 mandate.
The new "concept is to build a smaller tunnel for a shorter distance" along the Georgetown waterfront, Hawkins told me during a recent phone interview. "You do get less capture, but you get certain capture…and then we supplement it by a significant investment in green infrastructure so that the two are working in tandem."
This new design, he stressed, is merely an idea and has not been formally proposed to anyone. DC Water has organized a Green Infrastructure Challenge, which is meant to cultivate ideas and information about the city's residents regarding LID, but there isn't anything concrete beyond that.
One option, Hawkins said, is to develop a pilot program, which could demonstrate the usefulness of green infrastructure initiatives. The downside is that the pilot would only be a stepping-stone to the final proposal and would add to the project's timeline. Ideally, he said, DC Water would skip the pilot and draw up the final plan as soon as possible, as long as it has the proper research and development.
Some groups are wary of DC Water's green approach. Earthjustice, for example, wrote a letter to the EPA in May 2012, stating that "while we support the aim" DC Water has "to study and implement low impact development and other green infrastructure projects, …we strongly oppose DC Water's proposal to reopen the DC Water-U.S. consent decree to allow an eight-year delay of the deadline for designing and building the Potomac and Rock Creek tunnels."
Hawkins acknowledges the concerns of the letter, but feels strongly that the emergence of LID is right around the corner. If LID becomes the more environmentally friendly option, he wants to make sure that Washington steers in its direction because "DC Water is," and has been, "held to a performance level that is unprecedented in the field."
It is important to note that the project in Bloomingdale to address the issue of flooding will not be affected. In fact, Hawkins has pushed for a speedy construction in that area.
"DC is at this lynchpin moment," Hawkins said. "We want to make sure that, if we make this decision, we have every chance to use this technique that may have some really great long-term benefits."
While some people think of this project in a forty or fifty-year time frame, Hawkins thinks of it 100 years in the future. Because redesigning sewer systems in cities like Washington, he said, is not something that is done very often. 
"DC's sewer lines have been in place since the civil war," he reminded me. "That's how long the decisions that we make survive."
It's for this reason that Hawkins doesn't mind a few years of delay if it means researching and discovering a new kind of infrastructure that could bring about more jobs, involve the community, and relieve the need to tear up the city's streets once again some decades later.
"I'd rather see a city try to green itself," Hawkins finally said, "to become more ecological, rather than building tunnels that nobody sees. It's almost as if an environmental ethic is hidden once again and all the rest of us don't think about how storm water is managed. It's concrete, steel; it's under ground and it leaves us out of it. In one more way, people are detached from being a part of the environmental solution of the world they live in."