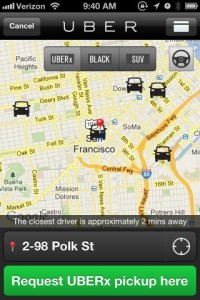 The Taxi Link airs Sat. 7-8 pm on WUST 1120 AM. Listen here: 
Audio clip: Adobe Flash Player (version 9 or above) is required to play this audio clip. Download the latest version here. You also need to have JavaScript enabled in your browser.
The D.C. Taxicab Commission recently voted to exclude smaller cars from the sedan-class of public vehicles for hire. The move prevents Uber, the largely unregulated luxury sedan service and phone app, from using smaller cars to compete more directly with taxis, which are highly regulated. The commission's decision has Uber and its allies, including several D.C. councilmembers, up in arms.
"The taxi commission… said to Uber, 'You can't have small cars, fuel efficient cars, because they'll look too much like taxis.' That's ridiculous," D.C. Councilmember Mary Cheh, chair of the Committee on Transportation and the Environment, said Thursday on NewsChannel 8. "They should be allowed to have whatever kind of cars they can give to the customer," said Cheh.
But Ron Linton, chairman of the D.C. Taxicab Commission, says it's unfair to allow Uber to use its smaller vehicles, "essentially an unregulated taxicab," to compete directly against cabs, which are already grappling with meeting a wave of costly, commission-imposed mandates.
"Everybody is struggling to fulfill these requirements… While we are doing that, [Cheh] is trying to let Uber work unregulated," Mechal Chame, board member of The Small Business Association of D.C. Taxicab Drivers, told The Taxi Link. "It is simply about the haves and the have-nots. It is just politics," said Chame.
"I don't know whether it's racial or not, but they're all white," longtime cab driver and D.C. Taxicab Commission member Stanley Tapscott said of the councilmembers going to bat for Uber.
Friday on The Kojo Nnamdi Show on WAMU, At-large D.C. Councilmember David Grosso went farther than Cheh, saying the commission had "dropped the ball on this one" and he would "support completely eliminating the D.C. Taxicab Commission." On Twitter, Ward 6 Councilmember and mayoral hopeful Tommy Wells also called for the abolition of the taxi commission.
"There may be some racial overtones, but if it's not racial there's definitely some class issues [here]," said Tony Norman, chairman of D.C. Advisory Neighborhood Commission 1B and co-host of The Taxi Link. "I don't think the councilmembers understand that… They need to come down from Mount Olympus [to] see how these regulations and this Uber thing is really impacting the entire industry."
The Taxi Link airs Saturday 7-8 p.m. on WUST 1120 AM. The show is sponsored by The Small Business Association of DC Taxicab Drivers, volunteer-hosted by TheFightBack's Pete Tucker and D.C. Advisory Neighborhood Commission 1B Chairman Tony Norman, produced by Will Martin and engineered by Mark Taylor, with special thanks to Stefan Ilie