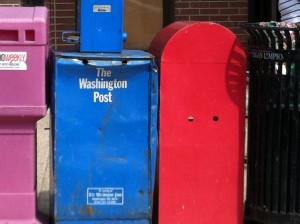 A potential "pay-to-play" involving a city leader asking for a large donation from a contractor accused of stealing millions and serving kids spoiled food. That's about as juicy a local story as they come, unless you're the Washington Post.
The AP broke the story that DC Public Schools Chancellor Kaya Henderson asked food service contractor Chartwells to donate $100,000 for a black-tie gala run by an organization that aligns with her agenda. Henderson asked for the donation shortly after a DCPS whistleblower filed a 2013 lawsuit accusing Chartwells of serious impropriety.
2) Why is .@WashPostDC throwing @HendersonKaya a lifeline on a donation from a contractor that de-frauded D.C.? https://t.co/GbsQHVSyEW

— Jeffrey Anderson (@jeffreyanders19) April 20, 2016
Ultimately Chartwells reached a settlement with the District in 2015, agreeing to pay the school system $19.4 million. But before cutting that big check, Chartwells wrote a smaller one for $25,000 to the DC Public Education Fund. While it was less than Henderson asked, she was still pleased. "You rock!" Henderson emailed the president of Chartwells' local partner, Thompson Hospitality. For the following year's gala Chartwells-Thompson Hospitality gave another $25,000.
"I think it's highly irregular and improper," DC Councilmember Mary Cheh told the AP.
While DCPS has continued its contract with Chartwells, and will pay the company $32 million this year, the DCPS whistleblower hasn't fared as well. Jeffrey Mills was fired in 2013. (He sued for wrongful termination and won a $450,000 settlement.)
After the AP story broke Tuesday, the Post quickly followed up "to put out the fire," DC reporter Jeffrey Anderson wrote on Twitter. (Anderson broke the initial stories on Chartwells' DC violations for the Washington Times in 2010, and continues reporting on DCPS food contracting, now for City Paper.)
Aaand here come's .@WashPostDC to put out the fire. https://t.co/GbsQHVSyEW https://t.co/bhLiH43L11

— Jeffrey Anderson (@jeffreyanders19) April 20, 2016
The Post's story, buried on page B4 of the Metro section, left out that Henderson fired Mills, the whistleblower. It also failed to disclose that, like Chartwells, the Post donated to the DC Public Education Fund.
@PerryStein @byaaroncdavis And you don't even mention that WaPo is a contributor to Kaya's fund. I mean, come on!

— Ken Archer (@kenarchersf) April 20, 2016
What's more, the Post says it had independently obtained the 2013 email exchange that the AP used to break the story. This raises the question: Was the Post sitting on the story?
What's clear is that the Post routinely gets scooped by the national media on local education stories. Ken Archer, who reported on DC education issues for Greater Greater Washington, wrote on Twitter:
Again, natl media (USA Today, PBS, AP) get all DCPS scoops. Does WaPo even FOIA DCPS? Does anyone buy news/ed split? https://t.co/XIsWo8XdSu

— Ken Archer (@kenarchersf) April 19, 2016
In 2007, former Post owner Donald Graham described the Post as an "education and media company." The emphasis on education was due to its ownership of Kaplan, the testing company and online university with questionable business practices. As the paper was struggling year after year, Kaplan was bringing in huge profits.
With billionaire Amazon owner Jeff Bezos' 2013 purchase of the Post, Kaplan is no longer part of the Post (it remains under Donald Graham's control). Despite the change in ownership at the Post, the paper's education coverage hasn't changed much, if at all.
When Michelle Rhee was brought in as chancellor in 2007, the Post could barely contain its excitement. While failing to break major stories exposing DCPS's serious problems under Rhee, the Post instead went after those who stood in the way of her anti-union, pro-testing agenda.
Rhee resigned as chancellor in 2010 when DC residents stood up en masse to reject her education policies by voting her boss, Mayor Adrian Fenty, out of office.
But over at DCPS there wasn't much change. Rhee was replaced by her number two, Henderson, who is now into her sixth year as chancellor. Through it all, the Post has been consistent, with too few reporters calling the paper out, as Ken Archer and Jeffrey Anderson have.
All these questions. No wonder such arrogance at the top of .@dcpublicschools. When @WashPostDC has your back, there are no consequences.

— Jeffrey Anderson (@jeffreyanders19) April 20, 2016
Related stories: The Post vs. Vincent Gray