If Donna Edwards ekes out a victory in Maryland's Democratic primary Tuesday, she'll be positioned to become just the second black woman to serve in the Senate. But winning her party's nomination will be a heavy lift: she's up against a tough opponent, and the Washington Post.
Recent polls show Edwards trailing her House colleague, Chris Van Hollen, who the Post's endorsing editorial called "a gifted legislator…[and] the better candidate."
The Post's three subsequent editorials on the senate race have contained increasingly shrill attacks on Edwards, calling her: "A Democratic facsimile of Sen. Ted Cruz" who, like the Tea Party, thinks "bipartisan compromise… is apostasy."
The Post's bias is not only relegated to the editorial page, but also bleeds into news stories. In back-to-back front page candidate profiles, the disparate treatment begins with the headlines*: Edwards "roils colleagues," while Van Hollen "bets on his long résumé."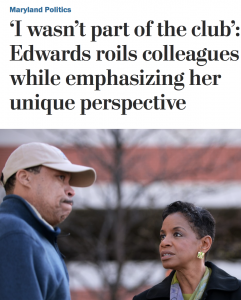 Van Hollen is described as "the most effective advocate for his constituency," who "looks over nearly every piece of mail his staff sends out"; "a master at pushing past obstacles." The Post describes Edwards, on the other hand, as "pandering to black voters" and "wrapping herself in the sisterhood cloth," while not returning constituent calls.
Edwards and Van Hollen, both 57, are vying for the Senate seat being vacated by Barbara Mikulski, the longest-serving female senator. Thirty years ago, Mikulski pulled off a major upset in the primary, defeating the sitting governor, a House colleague, and a Baltimore county executive. Her victory made her the first Democratic woman to win a Senate seat without succeeding a husband or father.
Mikulski's 1986 bid was backed by Emily's List, a newly formed group dedicated to electing women. Today the group is trying to keep a woman in Mikulski's seat. Through its Super PAC, Emily's List has spent $2.9 million on behalf of Edwards. This mass infusion has been a lifeline for the Edwards campaign, which has raised less than half of the Van Hollen campaign's $8 million.
Another PAC supporting Edwards, Working for Us, has been heavily criticized for an attack ad that used President Obama's image. The White House and top democrats called on Working for Us to take down the ad; the Super PAC didn't, but it did remove Obama's image.
This triggered the Post's fourth editorial. "Ordinarily we might not write again," the Post explained, as it attacked Edwards. "Even in a season of political chicanery, the campaign of Rep. Donna Edwards… stands out for having twisted the truth so extravagantly."
It turns out the ad in question was created by Working for Us, not the Edwards campaign. (Super PACs and campaigns are prohibited from coordinating; the extent to which they adhere to that is questionable.) Meanwhile, the Post editorial page has ignored the Van Hollen campaign's use of Obama's image in a TV ad, and stayed silent as the campaign's mailers featured a photo of Mikulski, who's declined to endorse in the race.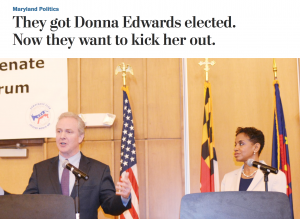 While Edwards's Super PAC support has faced increasing scrutiny, selective attention has been paid to Van Hollen's. One of Van Hollen's backers, SEIU, previously supported Edwards in her House bids, which the Post highlighted: "They got Donna Edwards elected. Now they want to kick her out," reads a recent headline.
One PAC that surprised many with its non-endorsement is that of the Congressional Black Caucus. Unlike the CBC itself, which is made up exclusively of black congressional members, the CBC PAC has lobbyists on its board. One of those lobbyists, Al Wynn, is the congressman Edwards battled in consecutive, contentious primaries, finally unseating him in their 2008 rematch.
This year, Wynn successfully lobbied his fellow CBC PAC board members not to endorse Edwards despite the historic opportunity her Senate bid presents. On their own, four of the CBC's 46 members have endorsed Edwards, while none have endorsed Van Hollen.
Polls show Edwards maintains an overwhelming lead among blacks, which the Post attributes to her "pandering to black voters." Meanwhile Van Hollen has a larger lead among whites, but the Post hasn't accused him of making a racial appeal.
In a state where Democrats outnumber Republicans by more than two to one, Tuesday's winner will likely go on to be Maryland's next senator. In a tight race like this, media coverage can make or break a candidate.
---
* These are web headlines; the print headlines are similar: "Speaking her mind, for better or worse: Edwards, immersed in a tense race for Senate seat, hasn't been afraid of stirring up colleagues," and "Credentials and compromises: Senate candidate Van Hollen climbed the political ladder and bets that's an asset in a year of outsiders"
Related stories: